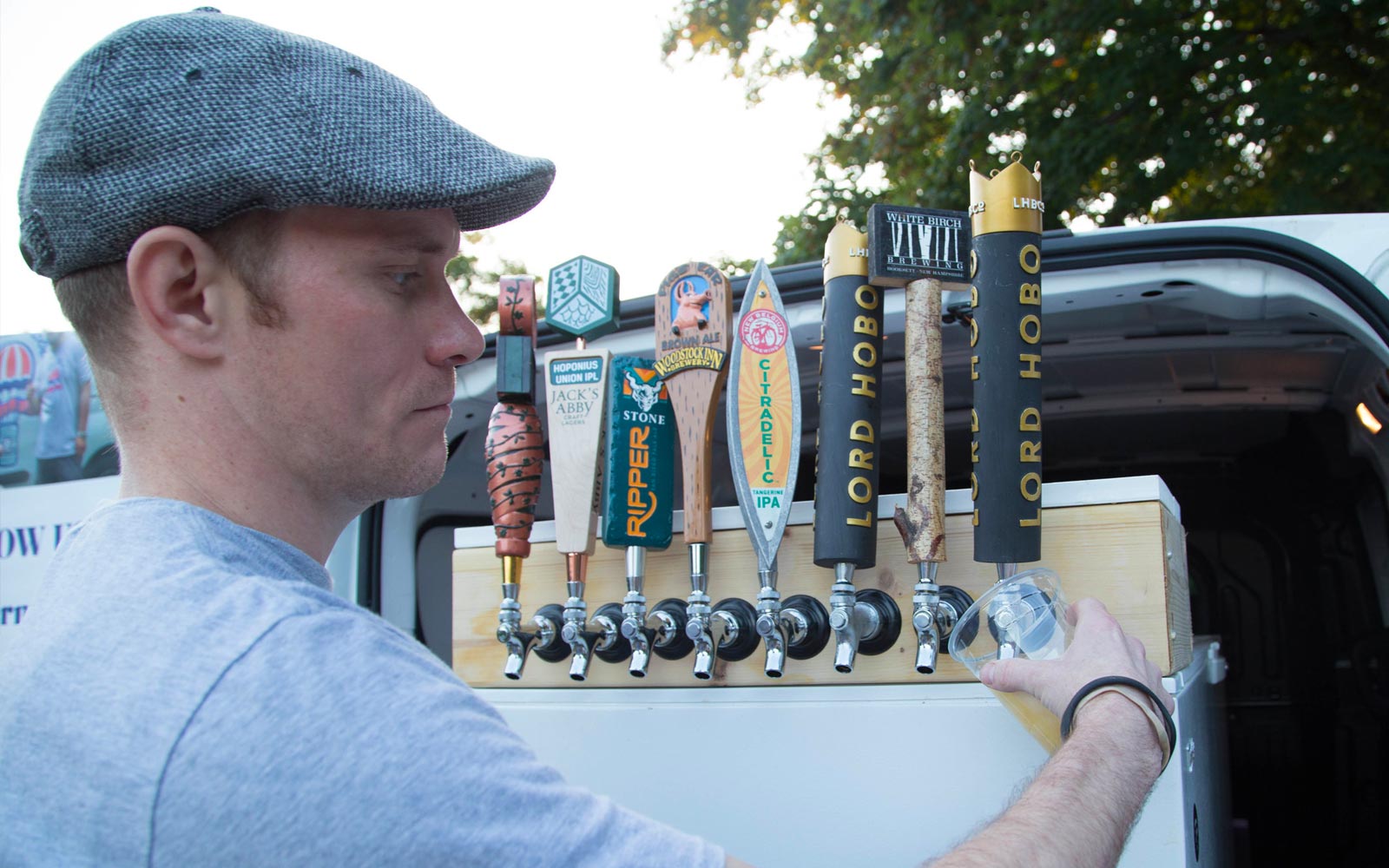 Pricing
The Beer Mobile offers a variety of mobile bar packages. Our mobile bartenders have experience with corporate events, weddings, graduation parties, and other events. All  portable bar packages can be customized to fit your needs! We can also provide food packages to supplement your beer truck experience! 
Travel costs are based on location, transit time and staffing requirements.  Additional fees may apply for party equipment rentals, glassware, menu supplements & permitting.
We do require a 50 guest minimum.
STANDARD
Craft Beer & Wine
Up to 4 draft lines for craft beer or cider.  We will find the beers you like, local favorites include Mighty Squirrel, Night Shift, Lord Hobo & Jack's Abby.

5-6 wine varietals including rose & sparkling or prosecco.

Non-alcoholic beverages including seltzer, juice, soda, and water for guests.

Equipment, compostable disposables, liquor liability insurance

Staffing by professional mobile bartenders and mixologists

Cleanup and breakdown for all beverage related services
PREMIUM
Beer, Wine & Cocktails
Up to 4 draft lines for craft beer or cider.  We will find the beers you like, local favorites include Mighty Squirrel, Night Shift, Lord Hobo & Jack's Abby.

5-6 wine varietals including rose & sparkling or prosecco.

2-3 specialty batched cocktails including margaritas, sangrias, mojitos or something created especially for your occasion!

Non-alcoholic beverages including seltzer, juice, soda and water for guests.

Equipment, compostable disposables, liquor liability insurance

Staffing by professional mobile bartenders and mixologists

Cleanup and breakdown for all beverage related services
TOP SHELF
Full Bar Service
Up to 4 draft lines for craft beer or cider.  We will find the beers you like, local favorites include Mighty Squirrel, Night Shift, Lord Hobo & Jack's Abby.

5-6 wine varietals including rose & sparkling or prosecco.

Includes all major spirit categories, vodka, gin, rum, tequila and at least two whiskey styles. Certain brands are available upon request but we will always provide a high quality alcohol to make sure everything is enjoyed!

8-10 additional liqueurs and cordials will round out the bar.

All mixers including tonic, soda water, Coke products and juices will be provided.

All garnishes will be provided.

All bartending tools will be provided to offer all styles of cocktails including martinis, etc.

Non-alcoholic beverages including seltzer, juice, soda and water for guests.

Equipment, compostable disposables, liquor liability insurance

Staffing by professional mobile bartenders and mixologists

Cleanup and breakdown for all beverage related services